Երգազրույց | AGOP
Written by Ռադիո Հայ on 15th June 2019
The guest of the "Yergazruic" (Songtalkings) is a French- Armenian musician Fred José Agop Azilazian, that is performing under his Armenian name AGOP.
NYUSKE: I'm very grateful and excited that you managed to visit our radio station for an interview in your tight schedule, I know You're leaving Armenia tomorrow and there's not much time left… so let me introduce myself to you a bit, because it's kind of important for my first question. I'm a music producer in Radio Hay and my job is to find and discover musicians of Armenian origin all around the world and I was so surprised yesterday when I accidentally discovered you throughout a post of a friend in social media /btw. The friend was Arni-Rock an electronic musician and DJ, we'll talk about this later on/ and the great part of this discovery was that I fell in love with your music immediately. Therefore, I really wanted you to come to this interview for our audience that probably just like me haven't heard your music yet. So can you answer this simple but at the same time a very hard question, who is Agop?
AGOP: Oh, ok, so…. Look Agop is my Armenian name and when I started my musical project I wanted to use this name "Agop" because for me using this name is a way to promote Armenia, Armenian culture and history. First, I thought I can take a random name like for example "Blue Moon" but there's nothing behind it, but as I'm proud of my Armenian roots, this became a starting point for me.
For me music is a feeling, I never attended a musical school, I simply took a guitar one day when I was 15 and started playing Nirvana songs and I was a big fan of Nirvana, but before that I was 50/50% into Armenian dance music and hip hop until one day I saw on TV a music video of Nirvana and Kurt Cobain. It blew my mind away and I started playing and singing, but at that time it was bad. During my high school years, me and my friends started a band, we use to do covers and after some time I started to compose my own songs.
NYSKE: How old where you when you composed your first song?
AGOP: I composed my first song when I was 25 and it's a bit late… and my first song was called "No More Genocides" and after that I've spent a lot of time composing and trying to find the right melodies but I didn't record anything until I was 34 and so AGOP project started in 2010 and I started playing my compositions in bars of Paris to feel the audience and to see the reaction. The reaction was good, a lot of people liked the music and after two years I had a chance to perform at the big venues in Paris, like Olympia. I was the opening act for lot of famous international artists, for example KEANE from UK, a singer from Australia Micky Green, a fantastic singer-songwriter Glen Gansard, by the way he did a fantastic movie called "Once" you should see it… So after 4 years playing in different venues I finally went to the professional studio to record my first songs.
NYUSKE: So when did you realize that music is your lifetime profession, and is there a chance you may adopt any other profession?
AGOP: At the beginning I was half music half football expert, because I'm a big fan of football, I thought to do analysis and interviews for football and so instead of going somewhere making  sandwiches, for example, I preferred to follow my passion to make money by following my dreams. At the beginning it was very hard, now it's better, but as I live in Paris, which is very expensive city, sometimes I still do analysis and interviews or reports of football games
NYUSKE: Can you please tell about the biggest and most important show you played and what it gave to you?
AGOP: The best show was at the Olympia, 2 or 3 thousand people and the feedback was fantastic, after my show around 200 people came by asking for a CD, but at that time I had no CD. Look I didn't have any EP or Album so that's when I said to myself – ok so you have to go to the studio and record the songs, your audience wants to have something from you and this particular show when I made this decision was remarkable for me, but the biggest show I played was in Zenith, Paris, and it was like with 500 people and I won the «Discovery award Europe 1 by Riffx » from French radio Europe 1.  I did the opening of big party with biggest French artists in front of around 5 or 6 thousand people, it was an important show for me because the first notes came from the duduk…
NYUSKE: AGOP, what is your inspiration when it comes to composing music and lyrics? Your music seems to be very positive and bright, where is that light coming from?
AGOP: It comes from my wife and from love and peace in general.
NYUSKE: Wonderful! So you compose when you feel happy?
AGOP: Not only, it's both, sometimes I hear sad stories, for example of divorce etc. and it also can be an inspiration when I'm melancholic and sometimes I'm happy and I want people to be happy, so yeah, in general it's peace and love that inspires me but firstly – my wife.
NYUSKE: I'm curious about your relations with Armenia, have you visited before?
AGOP: Yeah, seems like it's my 10th time. First time I came here in 1996, it was tough times for the people here, no electricity no water no restaurants.
NYUSKE: And what was your reaction, what expectations you had from motherland at that time?
AGOP: Look, I did no expectations. We where group of young people from Marseille and besides the hard circumstances we enjoyed the trip a lot!
NYUSKE: What was enjoyable for you?
AGOP: We saw the Ararat, we went to Lake Sevan, we did classic tourism, we went to Garni, Geghard and Khor Virap and it was amazing for me.
NYUSKE: But do you think that your Armenian genes helped you to enjoy those things in such tough period and condition that Armenia was at that times?
AGOP: Yes, for sure! Well, at the beginning I did not wanted to bring my French friends here
NYUSKE: You where ashamed?
AGOP: Not ashamed but for French people it's hard. I had to say "ok, no shower and no electricity".  It's weird and unusual for them.
NYUSKE: And when you came next time?
AGOP: I came in 1996 and 1997 as a tourist, then 1999 I came as a part of a dance troupe…
NYUSKE: So you are also a dance?
AGOP: Yes, I use to dance in an Armenian folkloric dance troupe and we worked with famous choreographer Vanush Khanamiryan , so we danced everywhere in the country, from Opera hall in Yerevan to  Vanadzor, Gyumri, Stepanakert etc. We did a tour in 1999, 2000 and 2004 and after that I came here for a different kind of events, like friend's weddings etc. In 2010 I came here and played a gig in Stop Club.
Dear reader there's a person sitting with us in the room, therefore my next question was addressed to both my guests. This person is Arni Rock and electronic musician and a DJ.
NYUSKE: I know that this time you came here and there's a collaborative project with local musicians, please tell us about it and introduce to us this guy you came with.
Arni was sitting with a shiny smile and a shiny golden tooth.
AGOP: A guy with fantastic tooth, Arni, tell about our collab.
NYUSKE: You knew each other before?
ARNI: No, we had a song written with my college Hayk Solar. Actually we wrote it for Eurovision song contest but for some reason it wasn't chosen for the final, but we really liked it and were looking for the right vocalist, a perfect voice, that could be suitable for this song and we tried different vocalists, but we were not satisfied with the results. One day I saw a Facebook advertisement of AGOP and his new released song. After listening I thought that he could be a perfect candidate for the vocal part in our song, so I showed AGOP's song to my college Hayk Solar and he agreed. We wrote a massage to AGOP and luckily he replied, because you know lot of people don't reply when it's a massage from a stranger, but he did. I sent to AGOP a demo version of our song for him to have a picture of what we're talking about and he liked it and agreed to collaborate, but at that time we didn't know how to organize the recording because we were here in Yerevan and AGOP in France, but one day AGOP wrote that he's coming to Armenia !!!
AGOP: Yea, because I like collaborations together in one place, together in one studio, I think that's when you can really feel and understand each other and create something really good
ARNI: Yes, we also prefer working together face to face than on a distance. Of course sometimes you just have to do that on distance, but luckily not this time. We did the recording in one day and we're very happy about it, there are a lot of materials from that fun day in the studio, so we will work on the material and eventually get it done.
NYUSKE: Great, AGOP can you tell us a bit about your band? Are you a "one man band" musician or you have permanent musicians in it?
AGOP: Kind of one man band. Look I play with my family: my brother plays bass, my cousins play keyboards and duduk, I have a 100% French drummer – he is my friend since a lot of time, and my wife she sings backing vocals or sometimes we do duets. I have 3 people on backing vocals – guys and girls, because on stage I love that sounding a lot, so yeah, it's a family project on stage, but when we go to the studio I kind of decide everything and it's kind of a solo project.
NYUSKE: And what do you think about era that we're leaving in, in terms of music?
AGOP: Oh it's a good question! I think there are a lot of music now everywhere, there are a lot of artists and lot of great artists, but because of that amount, it has a side effect, it changes very quickly. This month you listen and hear about one artist, the other month another, you don't focus and you don't stick to one band or a musician, so It's not like before, you don't follow one band's music throughout many years, they release one or two albums and they disappear. Before and after the internet, it's a completely different story, internet made a revolution for music and musicians, it's totally different situation then it was before.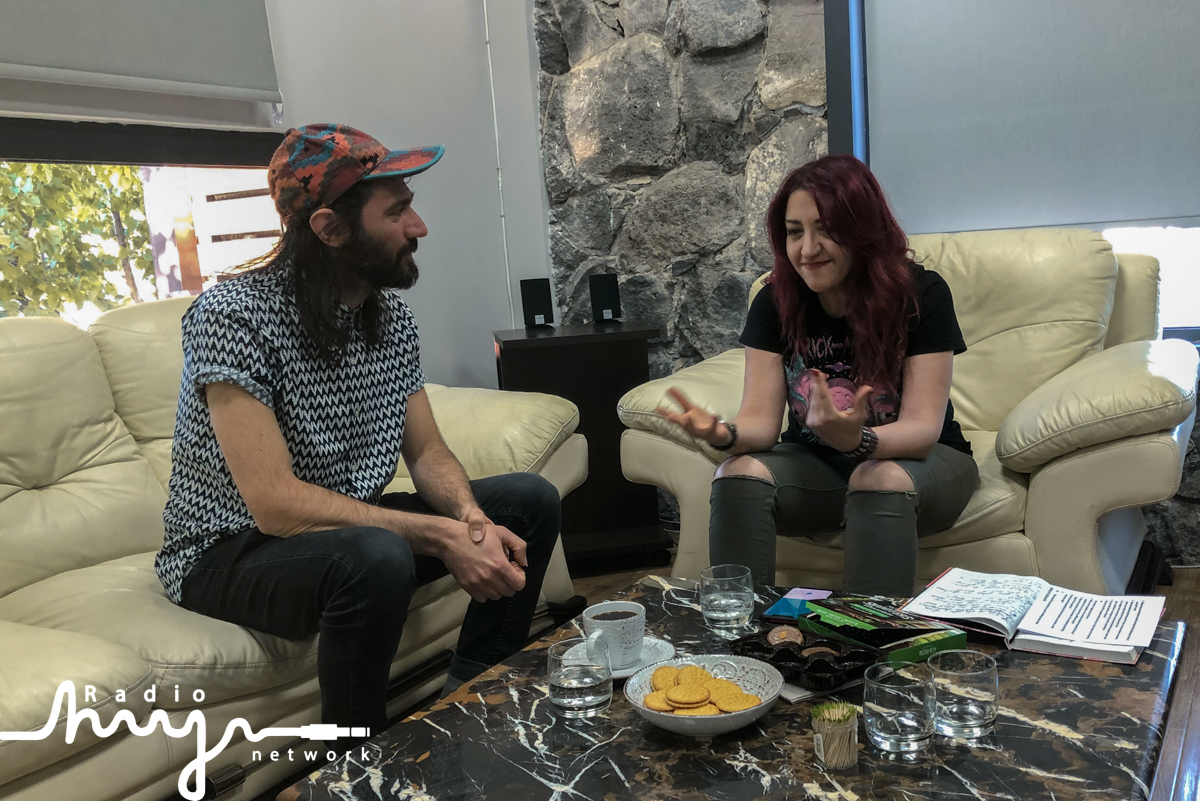 NYUSKE: AGOP, can you give some advices to young musicians that are thinking of starting a career. What kind of character lines should they adopt or are there some hints for becoming successful in this sphere?
AGOP: I think you should do what you want to do with no doubt in your actions. There's this famous song of Rage Against The Machine  –  "F**k you, I won't do what you tell me". I totally agree with that, but that's my way of thinking, and I still don't know how to act if you want huuuuuuge success, for big success is it possible to think like that ? I don't know, it's about compromising maybe, but in general, I think at the beginning of any good story there is "I do what I want to do and I do what I like to do" plus honesty. That's my advice, but I don't like to give advices, I'm not a big star, I don't have to give advice and even when I'll be a big star it's still hard to give advises. I ca say one thing – do your music with your heart and do what you want to do with pleasure.
NYUSKE: How do you see your future, and do you plan or imagine it?
AGOP: Yes, my future is albums, collaborations, shows, tours around the globe, everywhere, in Armenia, in USA etc. because it's the time to spread music…
NYUSKE: And anywhere you go you'll bring you Armenianness with you, right?
AGOP: Exactly, because people will ask what is AGOP? What's the meaning behind it?
NYUSKE: Ok dear AGOP thank you so much for this interview, it was a great pleasure for me and I'm sure for our readers. I wish all your plans to come to live, because it's an amassing promotion for our beloved Armenia.
AGOP: Thank you too!
NYUSKE: Dear Arni, I hope we'll have an interview with you and Hayk too very soon, maybe when the song is ready?
ARNI: Yeah, I think it's a good idea, thank you too.
---
Մեկնաբանություններ
---